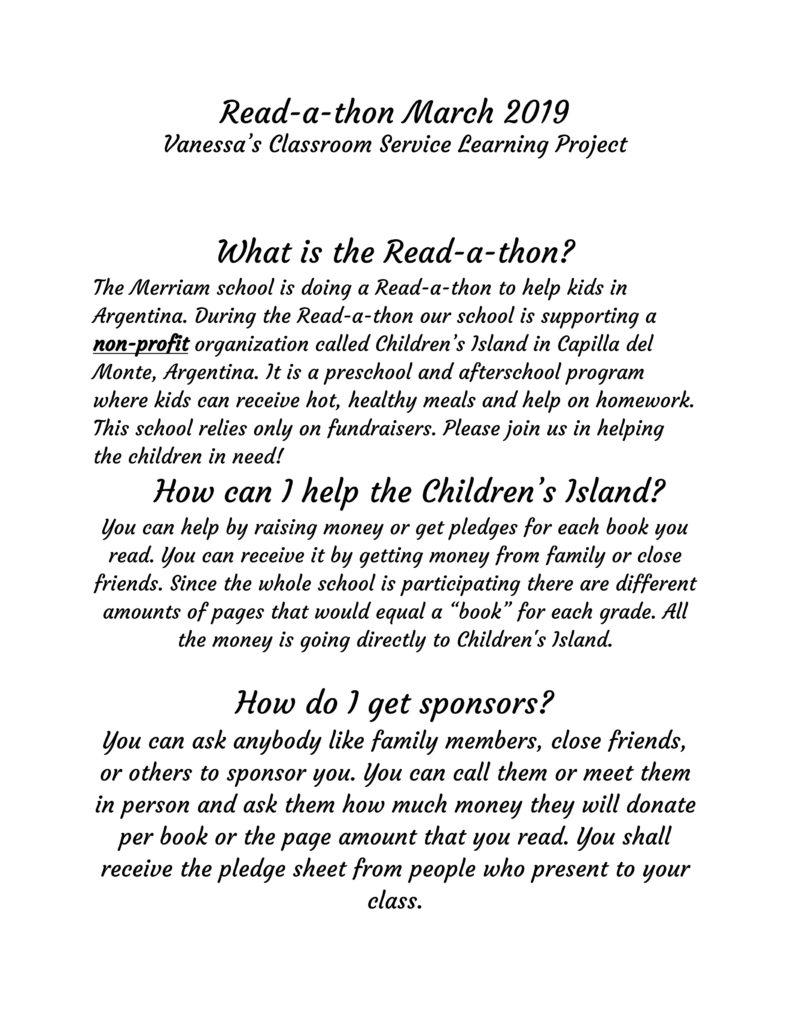 Read-a-thon March 2019
Vanessa's Classroom Service Learning Project
What is the Read-a-thon?
The Merriam school is doing a Read-a-thon to help kids in Argentina. During the Read-a-thon our school is supporting a non-profit organization called Children's Island in Capilla del Monte, Argentina. It is a preschool and afterschool program where kids can receive hot, healthy meals and help on homework. This school relies only on fundraisers. Please join us in helping the children in need!
How can I help the Children's Island?
You can help by raising money or get pledges for each book you read. You can receive it by getting money from family or close friends. Since the whole school is participating there are different amounts of pages that would equal a "book" for each grade. All the money is going directly to Children's Island.

How do I get sponsors?
You can ask anybody like family members, close friends, or others to sponsor you. You can call them or meet them in person and ask them how much money they will donate per book or the page amount that you read. You shall receive the pledge sheet from people who present to your class.

How To Get A Sponsor
Hi __________(insert name).My school is doing a read-a-thon to raise money for Children's Island a non-profit preschool and after school program in Argentina. I would like you to sponsor me by pledging money for every book I read. A sample amount to donate is 💲1 or 💲10 for a total amount of books. Thank you!
Directions for Participants
Please print sponsors name. Complete the pledge sheet. All the pledge sheets and book logs should be returned by March 29th along with donations to your teacher. Vanessa's class will come and collect the donations.

Thank you so much for participating!
Please make all the checks out to Children's Island.
Thank you for the support.
-Vanessa's Class