SCRIPS Make AWESOME holiday gifts…
Send your orders in by Thursday, November 30th!!
(A form should have come home via backpack mail on November 17th. Alternatively, they're always available in the office, or just download and print the form!!)
HOLIDAY SCRIP!
Dear Merriam Parents,
It's the HOLIDAY edition SCRIP for the 2017-8 school year! We will also have SCRIP in May.
If you are new to the fundraiser – SCRIP is a program that allows you to buy gift cards from national and local retailers and restaurants and a portion of every purchase is donated to our PTO – at no extra cost to you!
Now is a great time to get your gift certificates for fall coach thank-you's, everyday shopping, your holiday cards squared away on Shutterfly or to get a jump on your holiday shopping! And remember with SCRIP, you raise money for Merriam by shopping with gift cards for everyday expenses like food, clothing, and entertainment. Each SCRIP gift card purchased earns a rebate for Merriam. This is a great way to help Merriam while doing the things you always do.
You can shop two ways: with the traditional paper ordering form (attached below and online) or by shopping online. If you haven't yet registered for an online SCRIP account please visit our PTO website at www.merriampto.org and choose the SHOP link for instructions on how to register at www.shopwithscrip.com. The upcoming order deadline is Thursday, October 19th. Please give yourself time for online ordering because it takes a few days to set up your account. Once it's set up, you are all set for your entire time at Merriam and have access to the full list of SCRIP vendors!
 October Orders Due – Thursday, November 30th
 Cards Delivered Home – Friday, December 8th
Let's make the SCRIP fundraiser a successful one for the school! We've got a goal to raise $1,000 through SCRIP, so please consider trying SCRIP this year if you haven't in the past. And always, if you have any questions (or miss the deadline by a day or two) please contact me. Thank you for your support!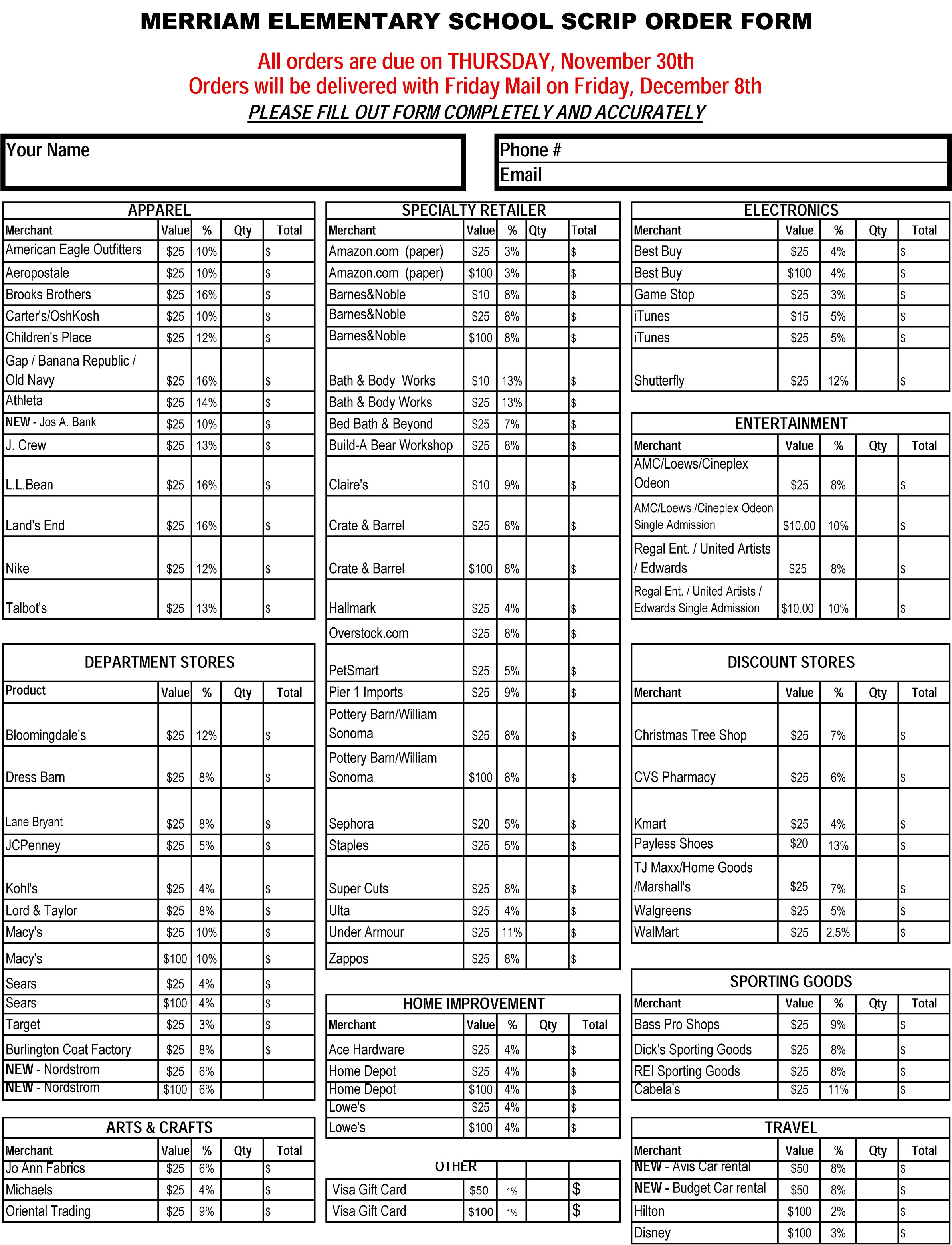 Lindsay Rosenman
(H) 978-897-0861 (C) 617-413-2261
lsrosenman@gmail.com