Gratitude Grows at Merriam
This year's school theme is gratitude. "Gratitude is the ability to recognize and acknowledge positive events in our lives and the people and places involved, a disposition or state of mind that enables people to respond positively to others for good things (or benefits) they receive and an emotional response to another person's moral actions on one's behalf." (Bono, 2015). As part of working on this theme, Merriam students have participated in a community day, a theme day, and have experienced gratitude in their classrooms.
At community day, students read books and looked for gratitude themes, tried to hone a definition of gratitude, and experienced listening with grateful ears to the sounds around them. While listening to the books, children thought about how gratitude could have changed the story, how it could have helped the characters, or how it grew throughout the story. While students grappled with the definition of gratitude they came across ideas of how gratitude impacts both the person giving the gratitude and the person receiving the gratitude. While listening deeply to the sounds around, students experienced gratitude as a mindfulness practice. In order to notice all the aspects of one's surroundings that you might be grateful for you have to slow down and in the slowing down you become more mindful and are able to open to more gratitude.
During our recent theme day, students furthered their study of gratitude. They made gratitude glasses, painted gratitude rocks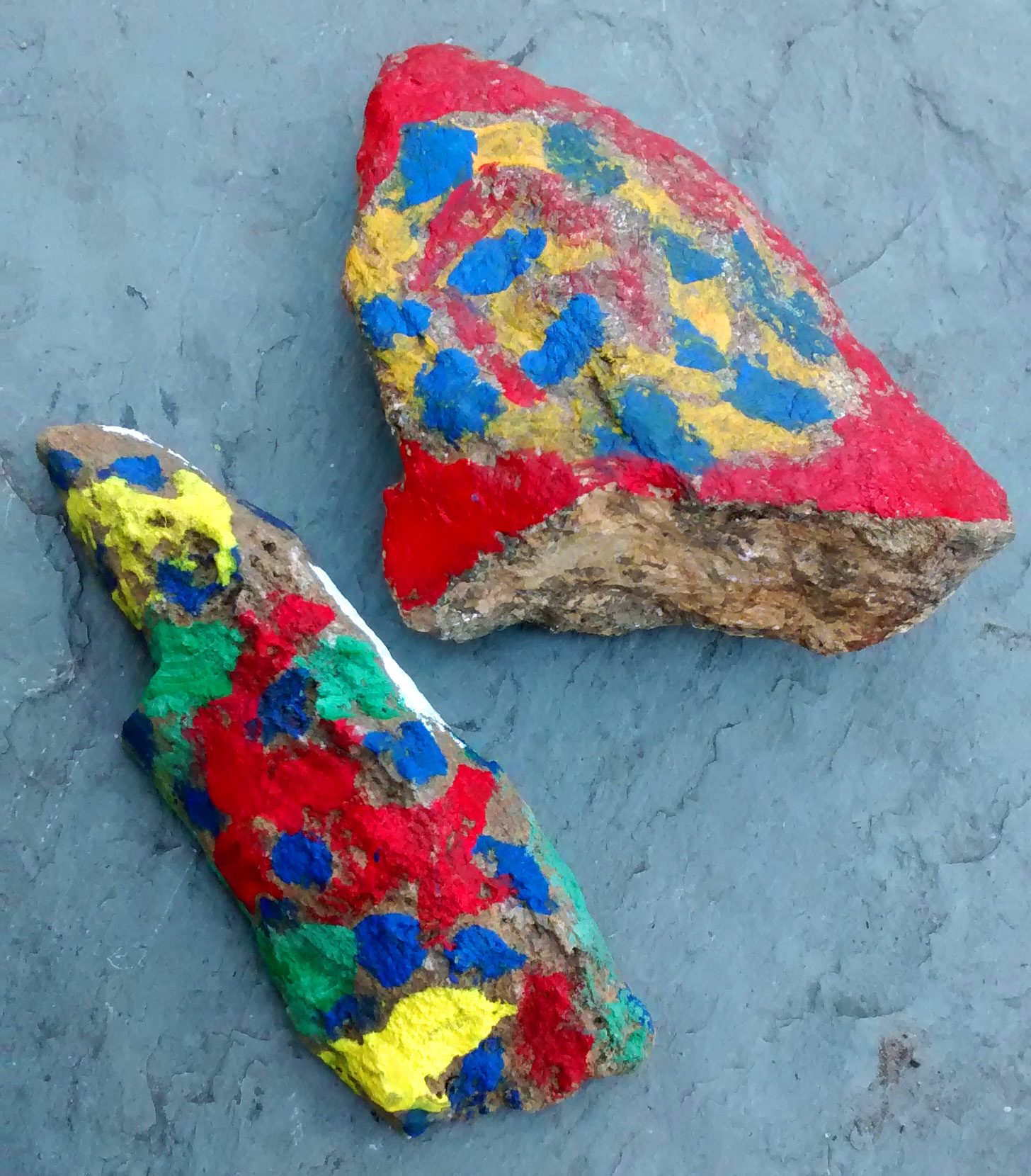 and experienced feeling grateful for their bodies and the many things it can do. The glasses were made to help students be able to see that being grateful is often a helpful lens that can move people through challenges. We call this process a gratitude flip. One can use gratitude to flip a situation that might bring negative feelings into one that can carry positive feelings. For example, a student could feel disappointed that they didn't get the lunch they wanted and they could choose to sit in that disappointment, or they can use gratitude (by putting on their imaginary gratitude glasses) and remind themselves to feel grateful that they have a lunch and they even have a special treat. The gratitude rocks were painted to be sent out into the world, to grow gratitude practices in our community. Our hope is that each child would either keep their rock to remind them to think of things they are grateful for or they would pass their rock along as a token of gratitude and share with that person that it is a reminder of gratitude. The gratitude for our bodies challenges helped children to experience what a challenge would be like if one of their senses were limited. Through experiencing the challenges children were able to express gratitude for the senses that weren't limited. One of the challenges the students experienced was trying to recreate a pattern without being able to see it, only using auditory cues from a partner.
Gratitude also has been growing in individual classrooms. Walking around the school, you may see signs at the sign in table that have students write what they are grateful for before they walk into the room. You may notice thank you notes written from one class to another for their all school meeting performance. You may notice notes tagged to teacher's bulletin boards expressing thank you notes. Kindergarteners may tell you about the thank you notes and acts of kindness they sent out and the notes they got back thanking them. You may hear sentences like this at a closing circle, "I am grateful for my family.", "Thank you for being a great group member and helping us stay focused.", "Thank you for reminding me how to organize my conference folder.", and "I am grateful for my teachers who really care about me and make learning fun." Our hope is that by the end of the year you may be invited to an all school meeting to hear who your child's class is thanking.
Gratitude Research Grows
All of this work with gratitude is supported by an emerging body of research that shows that practicing gratitude supports positive growth in children. According to Giacomo Bono, a researcher with the Youth Gratitude Project at the Greater Good Science Center at UC Berkeley and professor at California State University Dominguez Hills, gratitude is embedded in a body of research around mindfulness, positive psychology and character strengths. It is one of the most malleable character strengths; the more you practice the more it grows in your mindset. Gratitude is part of growing social/emotional intelligence. The early studies on gratitude are showing that it could have many positive effects on students and adults in schools. It seems that students and adults who practice gratitude can be more productive and creative, have stronger trust in others, have better relationships and stronger bonds, have higher motivation and practice less risky behaviors. One of the most exciting parts of the early research is that gratitude seems to grow exponentially. In other words the more you practice sharing gratitude, they more your brain will notice things to be grateful for.
Growing Gratitude at Home
Parents and guardians can practice gratitude with their children at home. You can simply start modeling gratitude. Tell your children what you are grateful for and help them notice what they are grateful for. Parents could start a family gratitude notebook, where each night at dinner you write down three things your family is grateful for. Families could brainstorm categories of gratitude. For example, say what places outside you are most grateful for, say what part of your home you are most grateful for, say what sounds you are most grateful for. You could practice using gratitude to turn around challenging situations as a family. For example, it's so sad to lose a pet but you could make a list of all the gifts that pet gave your family. You could write thank you notes as a family to another family thanking them simply for being your friends and making you laugh. Parents can support their children in sending their gratitude rock to someone. You can help your children notice that when someone does something for you and you feel grateful, they have likely given up something for themselves. When we thank people it's helpful to acknowledge that sacrifice that they have made to make our life better. This realization supports children in building connections to other people and supports their own mental health.
Gratitudes
Thank you to all the parents and guardians who support our children at home so they can come to school ready to learn.

Thank you to our teachers who create engaging learning experiences for our children in their classrooms and for our whole school at theme days and community days.

Thank you to our office and custodial staff for keeping us all (and our learning spaces) organized and safe.

Thank you to our administrators who support all of us as we create unique learning opportunities.

Thank you to our bus drivers, crossing guards, and school officers who keep our students safe in their travels to school.

Thank you to our students who bring joy to their learning and keep us all smiling.
Gratitude References and Resources
Bono, Giacomo. "Youth Gratitude Project". 2015.Presentation.
Froh, J. J., Bono, G., Fan, J., Emmons, R. A., *Henderson, K., *Harris, C., *Leggio, H., & Wood, A. (2014). Nice thinking! An educational intervention that teaches children how to think gratefully [Special Issue: Theoretical Frameworks in School Psychology Intervention Research: Interdisciplinary Perspectives and Future Directions]. School Psychology Review, 43, 132-152.
Emmons RA, et al. "Counting Blessings Versus Burdens: An Experimental Investigation of Gratitude and Subjective Well-Being in Daily Life," Journal of Personality and Social Psychology (Feb. 2003): Vol. 84, No. 2, pp. 377–89.
Wood, A. M., Froh, J. J., & Geraghty, A. W. (2010). Gratitude and well-being: A review and theoretical integration. Clinical psychology review, 30(7), 890-905.
http://greatergood.berkeley.edu/youth_gratitude_project
https://www.viacharacter.org/www/LinkClick.aspx?fileticket=GoqggR0GNQQ%3D&portalid=0
http://www.sas.upenn.edu/psych/seligman/positiveeducationarticle2009.pdf