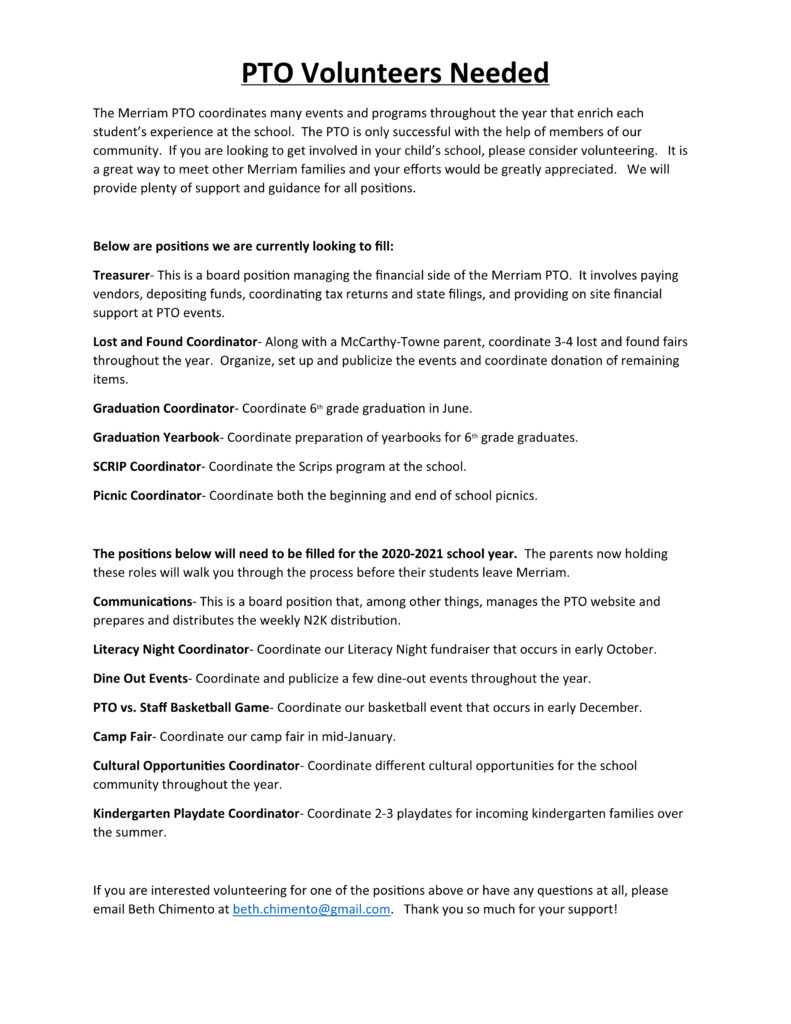 The Merriam PTO coordinates many events and programs throughout the year that enrich each student's experience at the school. The PTO is only successful with the help of members of our community. If you are looking to get involved in your child's school, please consider volunteering. It is a great way to meet other Merriam families and your efforts would be greatly appreciated. We will provide plenty of support and guidance for all positions.
Below are positions we are currently looking to fill:
Treasurer- This is a board position managing the financial side of the Merriam PTO. It involves paying vendors, depositing funds, coordinating tax returns and state filings, and providing on site financial support at PTO events.
Lost and Found Coordinator- Along with a McCarthy-Towne parent, coordinate 3-4 lost and found fairs throughout the year. Organize, set up and publicize the events and coordinate donation of remaining items.
Graduation Coordinator- Coordinate 6th grade graduation in June. Graduation Yearbook- Coordinate preparation of yearbooks for 6th grade graduates.
SCRIP Coordinator- Coordinate the Scrips program at the school.
Picnic Coordinator- Coordinate both the beginning and end of school picnics.
The positions below will need to be filled for the 2020-2021 school year. The parents now holding these roles will walk you through the process before their students leave Merriam.
Communications- This is board position that, among other things, manages the PTO website and prepares and distributes the weekly N2K distribution.
Literacy Night Coordinator- Coordinate our Literacy Night fundraiser that occurs in early October.
Dine Out Events- Coordinate and publicize a few dine-out events throughout the year.
PTO vs. Staff Basketball Game- Coordinate our basketball event that occurs in early December.
Camp Fair- Coordinate our camp fair in mid-January.
Cultural Opportunities Coordinator- Coordinate different cultural opportunities for the school community throughout the year.
Kindergarten Playdate Coordinator- Coordinate 2-3 playdates for incoming kindergarten families over the summer.
If you are interested volunteering for one of the positions above or have any questions at all, please email Beth Chimento at beth.chimento@gmail.com. Thank you so much for your support!